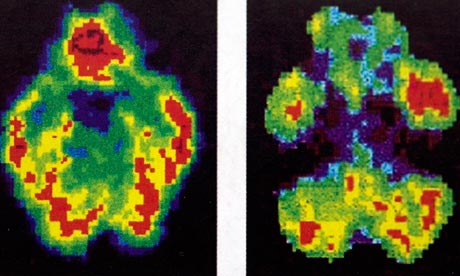 When Raine started doing brain scans of murderers in American prisons, he was among the first researchers to apply the evolving science of brain imaging to violent criminality.
His most comprehensive study, in 1994, was still, necessarily, a small sample. He conducted PET [positron emission tomography] scans of 41 convicted killers and paired them with a "normal" control group of 41 people of similar age and profile.
However limited the control, the colour images, which showed metabolic activity in different parts of the brain, appeared striking in comparison. In particular, the murderers' brains showed what appeared to be a significant reduction in the development of the prefrontal cortex, "the executive function" of the brain, compared with the control group.
The advancing understanding of neuroscience suggested that such a deficiency would result in an increased likelihood of a number of behaviours: less control over the limbic system that generates primal emotions such as anger and rage; a greater addiction to risk; a reduction in self-control; and poor problem-solving skills, all traits that might predispose a person to violence.
Read more >>